Endpoint Protector just announced the launch of the Content Aware Protection module as a Customer Preview. The new 4.1 version incorporates top of the line technology that enables you to eliminate risks of confidential data loss or data leakage to the Internet or the Cloud (services such as Google Drive, Dropbox, iCloud, etc.)
To read more on the new Endpoint Protector feature, visit: http://www.cososys.com/press_releases/Press_Release_Endpoint_Protector_adds_Content_Aware_Protection_to_prevent_data_leaks_to_the_cloud_15-May-2012_EN.html
Endpoint Protector just launched the new versions for Ubuntu and openSUSE of its Device Control and Data Loss Prevention solution, Endpoint Protector 4. With the new launched version, Endpoint Protector is virtually platfom-independent.
Endpoint Protector 4 is available as Hardware and Virtual Appliance, with support for Windows, Mac OS X and Linux Ubuntu 10.04 LTS and openSUSE 11.4. The data and device security solution ensures a complete and proactive protection against both inside and outside threats for organizations in an easy, but highly efficient manner with seamless integration and no operating system constraints. For more details, please visit: http://www.endpointprotector.com/en/index.php/products/endpoint_protector
A data breach caused when an Office for Nuclear Regulation official lost an USB memory containing details about safety tests at the Hartleport power plant is currently being investigated by the authorities. While the memory stick was caring only safety "stress-test" not "significantly sensitive" data, none of the files stored had been encrypted. The stress tests the lost portable device stored are currently being carried out at European nuclear power plants in an attempt to prevent future disaster, like the nuclear disaster at Fukushima power plant caused by the Japan earthquake last year.
According to an official ONR statement, the reports contained by the memory stick would have been made public after their completion, yet the office completely forbids the use of unencrypted devices for transporting documents with security classification. This means that the official responsible for the breach has broken ONR security regulations. The Hartlepool plant, operated by EDF Energy, confirmed the lost USB stick did not have important data. They also mentioned that when they would have been published, the results of the tests would have been less detailed. Read more
Endpoint security developer CoSoSys has released a new version of their data loss prevention, device control and endpoint security solution for Windows and Mac OS, Endpoint Protector. Offering enhanced protection, increased effectiveness and the fastest implementation time in its segment, the out-of-the-box Hardware and Virtual Appliance is now available for small, medium and large companies and organizations.
Coming with a long list of new features targeting better security, reliability, ease of use and better adapting to company structures and organization charts, Endpoint Protector 4 is designed to protect networks ranging from 20 computers (endpoints) to more than 5.000 endpoints.
Some of the top benefits of this latest Endpoint Protector solution are:
Seamless integration in business processes
Saving time and money when the solution is installed
Increased security through enhanced protection
Reducing allotted resources of the security staff
Optimum security through enhanced stability
Enhanced protection through complex, adaptable end efficient security
Reliable security through enhanced monitoring and policy control
Here's a good piece of news for companies around the world: when it comes to access to your important and confidential data, you don't need to treat all employees as equals. In fact, it is highly recommended to make sure not anyone can access all your files, and if they can see them, you should prevent everyone from copying or transferring the information you need to keep private.
Ongoing projects, customer data bases, inventions, strategies, private records of employees, credit card and bank account information, all these must remain confidential. So if you store them, how can you make sure an employee that is unaware of the harm they are doing or who knowingly wants to harm you, fails at their attempt to expose the files in question? Read more
If you're a Mac fan and also into device control, endpoint security or data loss prevention, you know there aren't many solutions covering this specific area for Mac / Apple operating systems. One of the only solutions with a client dedicated to Mac is Endpoint Protector 2009, developed by CoSoSys. The Endpoint Protector 2009 Mac device control application has just been released in a new version, now including File Tracing for portable devices and offline temporary passwords.
The newly introduced features are designed to increase protection for business confidential data and to offer road warriors a way to stay active and productive when a permanent Internet connection is unavailable. Moreover, the carried data is kept safe from the common threats posted by improper usage of portable storage devices that often leads to severe security breaches. When enabled, the File Tracing feature logs all data and file related activity and stores it for later auditing. Each time an employee edits, deletes or renames a certain file originating from or subsequently copied to a portable device, his actions are recorded, along with his user credentials and the device specifications. Read more
Yes, folks it was bound to happen. Device Control, Data Loss Prevention and endpoint security applications were bound to conquer the new over-hyped platforms, Windows 7 and Snow Leopard. And the first one to reach this performance is the latest version of Endpoint Protector 2009, developed by CoSoSys, a leading developer of endpoint security and portable storage device applications. The new version has a clear purpose, one that is a must for all companies interested in security: allowing them to test and implement the most recent operating systems, while protecting them from common threats yielded by extreme data portability and mobility.
"Our goal is to keep companies safe while allowing them to test, implement and turn the latest breakthroughs in software and hardware platforms into a profitable advantage. Releasing a version for the Windows 7 operating system – which is currently one of the most hyped and critically appraised platforms – and for Mac OS X Snow Leopard is a natural step in our ongoing strive to adapt to as many IT environments as possible. It also complements our efforts of maintaining a high level of mobility and productivity for non-technical users by providing them with a continuously increasing range of controlled portable devices, from iPods, cameras and USB sticks to ExpressCard SDD and printers," explains Roman Foeckl, CoSoSys CEO.
To test the new version of Endpoint Protector 2009, you can download the 30 days trial or check out the online demo at http://www.EndpointProtector.com.
As you've probably seen on this blog, there are news about security breaches, people who've been affected by identity theft and fraud, billions of dollars in losses every single day. More a day in really bad cases. Although there's a ton of information out there, individuals and companies still fail at protecting themselves against such breaches and at keeping their private data safe.
CoSoSys, leading developer of endpoint security and data loss prevention solutions, has chosen a different approach to raise awareness about the risks we face everyday: humor, namely a series of comic strips showing what can really happen. As CNET puts it, they put the fun back in security threats.
The first comic, originally published on CoSoSys' EndpointProtector.com site shows how easy it is for an employee to copy your entire data base and take it to your main competitor. A simple thumb drive, three minutes left alone in the office, and that's it!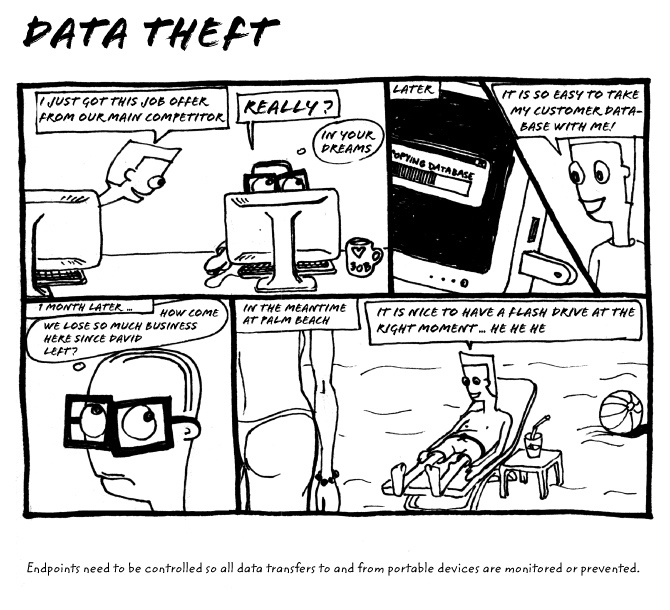 But as fun and laughing are not the only goals of the strip, each of them also helps you find out what to do and how you do it. Designed to promote the company's most popular DLP, endpoint security and device management solution, Endpoint Protector, each issue will show how everything can be prevented.
"Recent research performed in both the US and the UK shows a troubling trend: data breaches are rising in numbers and in costs as well. Millions of people have their data exposed to identity theft or fraud each year and few of those affected or those responsible of the incidents know that most of these instances could easily be prevented. Making sure that your private records and all endpoints in your network are secured is not a difficult task. That is why we are committed to put our best efforts into raising awareness and educating the public about staying safe without making any lifestyle compromises", explained Roman Foeckl, CoSoSys CEO.
The next issues of the strip will be published each Thursday for the next 7 weeks. You can see them here or register to get them on your email. Easier if you asked me, as remembering to visit a link every week is not something I usually do.
CoSoSys, a leading European developer of security solutions for USB devices, has just appointed Chillisoft as distributor of its products n New Zealand and Australia. That means companies and home users in these areas will be introduces to their Endpoint Security and data loss precention solutions.
Who's Chillisoft? According to the press release, Chillisoft is a specialist software distributor and finalist in the APAC Deloitte Fast 500 for the last 3 consecutive years. Our security solutions are carefully selected leading or emerging products from reliable and reputable vendors that can benefit our resellers and end-user clients in our target markets.
We've covered CoSoSys and their products before, but here's a little info on what they do:
CoSoSys was founded in early 2004 with a strong business focus on software development, marketing and support of applications for portable storage devices such as USB Flash Drives and flash based MP3 Players. In a second business unit CoSoSys is developing endpoint and data leakage security solutions that enable a secure working environment for portable storage devices.
Happy shopping, Australia and New Zealand! And stay safe
Inter Engineering, one of the main players on the data security market in the Balkans, and CoSoSys, vendor of network endpoint security and portable storage device enhancement solutions, announce today their strategic partnership to distribute the Endpoint Protector 2008 solution and additional support services in Greece, Cyprus and Malta. The distribution agreement between Inter Engineering and CoSoSys comes as a natural response to the increasing demand in Balkan countries for the numerous business and technical benefits that CoSoSys technology delivers.
"The developments in enterprise needs make Endpoint Security an indisputable part of a solid Policy" said Josmaarten Swinkels, CEO of Inter Engineering. "CoSoSys provides solutions which combine quality with flexibility and an attractive pricing model fitting extremely well in Inter Engineering's solutions portfolio. We are happy to work with CoSoSys and optimistic about the future."

"Inter Engineering has proven to be an absolute first-rate partner committed to the success of our customers," said Roman Foeckl, director of CoSoSys. "We are pleased to have such a reputable and experienced company representing us in their home market."
See more in the official press release available on the CoSoSys site.